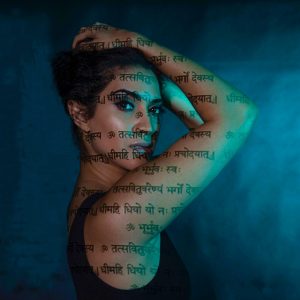 Radhika's personal and artistic endeavours are a tribute to her namesake — also known as Radha — the Vedic goddess of unconditional love and devotion. Her Indian, East African, and British roots have found full expression in her music as has the influence of the free-spirited women in her life, her mother and her two grandmothers, and her father, whose passion for classical and devotional Indian music stirred Radhika from infancy.
Discovering purpose through art, Radhika brings a wealth of live performance to consciousness based music. She has sung for a range of artists from Nitin Sawnhey and Eddie Palmiery to the late Prince. As a songwriter Radhika draws on the observation of the human experience with a deep reverence for wisdom of our ancestors in fusion with the human potential of self realization. She wrote the hit song "De L'ombre A La Lumiere" performed by Dominique Magloire in the hit musical "Cleopatre" (director, Kamel Ouali). Originally "I Am Not Alone", a dramatic anthem declaring and owning our connection to something far greater than our struggles. Radhika also wrote the song "Stand Up" – an anthem for St Judes children's hospital sung by Shoshana Bean (Wicked, The musical). Across Radhika's work there is an honesty and perseverance of a deeper truth, a strength and peace to be uncovered through all life's experiences.
After gracing many stages like the O2 Arena, prominent festivals in Europe and playing lead in the hit stage spectacular INDIA INDIA in Germany, she now resides in the United States. Radhika's latest music is a powerful ode to her Indian roots, featuring ancient Sanskrit mantras, philosophies and storytelling enhanced by striking sound textures from lands touched by her ancestry including India and East Africa. With a love for creating bridges between the East and West, her latest album SAPTA: The Seven Ways features sublime artistry of global musicians with Grammy nominated producer George Landress.
In 2021 Radhika's sessions on the breakthrough audio app Clubhouse attracted over 50,000 listeners. She was a special guest performer for Roger Love's (America's no. 1 voice coach) Voice of Success conference. In 2022, Radhika became the first ever artist to perform mantra inspired music at SXSW. In the same year she opened the summer's Gala for the International Center of Missing and Exploited Children (ICMEC) in New York – a global charity saving young children from danger and human trafficking. World renowned artist Jeff Koons featured Radhika's voice alongside those of Rihanna, Sir Paul McCartney and David Bowie for his recent 4 month groundbreaking exhibition 'Apollo' in Greece, with an exploration of the ancient world meeting the new.
Radhika has performed regularly for spiritual luminaries like His Holiness Sri Sri Ravi Shankar, (Art of Living Global, IAHV) and Deepak Chopra, singing and speaking passionately on establishing peace, healing and transformational power of music.  Through her unique fusion of global influences, Radhika harnesses mantra to bring this ancient practice from the Vedic Sciences and its philosophies to new audiences everywhere.   As her namesake, Radhika inspires us to a higher consciousness.
INSTAGRAM – @radhikavekaria_
TWITTER + CLUBHOUSE    – @radhikavekaria